CAN YOU Do What You Want?
Payroll. Invoices. Hiring. Payables. You didn't go into business for yourself because you wanted to deal with these. You've got a great business, but when do you get time to do the parts of it you truly love? Time and again you're dragged back by the adminis-trivia that supports your office. You've got an accountant, an insurance broker, maybe even a payroll service and a bookkeeper, and you spend more time working with them than with your staff or clients.
Emberley Streamlined Office Systems removes that wall of detail between being your own professional and keeping the healthy structure to make it possible. We'll organize your files, handle invoices, maintain the reports your accountant demands, and contact the payroll vendor with new hires and benefits changes. We'll help you get temporary or fulltime staff. Did you promise staff they'd be reviewed regularly? We'll prompt you to do it, and set up the benefits schedule you keep meaning to get to.
---
WHAT WE DO
Invoicing
Collections
Purchasing
Accounts Payable
Operations Manual
Payroll
Benefits Administration
Health Insurance
MetroChek
Life Insurance
Short- and Long-Term Disability
Vacation Tracking
Simplified Employee Pensions (SEP's)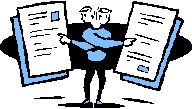 Events Management
Client Screening and Intake
Office Moves

Recruiting and Resume Analysis
Interviews and Candidate Analysis
Employee Handbook
Employee Recognition and Awards
Team Building
Bookkeeping
Cash Flow Analysis
Managing Technology
Electronic Files
Records Management
Systems Documentation
---
HOW WE WORK
The difference between a professional focused on her goals and one chained to his cell phone is usually one good office manager. The catch is, most small companies can't financially support an office manager. Daniel Emberley is a professional office manager. My firm does what you do: delivers the services we love to people who value them. What we love to do is manage staff and offices. That thrill you get from a well-designed building, operating web site, or closed case file? We get that same joy from bringing order out of office chaos.
You don't need our services full-time. But you know you need them. We will be your office manager part-time, delivering the knowledge of your internal systems and trust of a partnered professional for the days you need us each month. You pay for the service you use, and get the reassurance you need.